Ta is considered by many in the art world as "the one to watch."
Biography
Growing up in the rural outskirts of Bangkok, young Ta thought she was just as likely to walk on the moon one day, as she was to become a successful artist. But that didn't stop her aspiring imagination and love of composition and colour. At every chance, upon any scrap of paper she could find, she would while away the time sketching caricatures of people. She had no idea that this habit would serve as her impromptu schooling, prepare her for her wildest dreams.
As a farmer's daughter, life was never-ending hard-work. And by a certain age, education is considered a luxury. It was a luxury her family couldn't afford. By the age of 12, Ta was taken from school to work in the fields planting rice in the long hot sweltering Thailand days. 
Barely into her teens, she found herself working what she considered a "dream job" - sewing shirts in a Bangkok sweatshop. It provided her with a steady income, a bit of pocket change and a seat inside an air-conditioned shop - a step up from the fields. 
On her day off, she would wander the streets of Bangkok seeking out the art studios. A chance encounter, brought her to the studio of an old street artist. He invited her into the studio for a look around and she was immediately enchanted. The chaos, the smell of paints and thinners, the disarray of brushes, paint-stained rags, easels, canvases called to her. She knew then that she wanted more than anything to be an artist. 
But family responsibilities plucked her from the seat of Bangkok's art scene and took her back to the farm, this time as a driver of an old beat up pickup truck (of which she could barely reach the pedals), delivering vegetables to the temples and street markets of her hometown. Starting each day before sunlight, and ending well after nightfall, long hours and hard work was no stranger to the young girl. It is undoubtedly where she developed the strength of character and the tenacity to become the artist she is today.
Today, Ta's work is sought after by art connoisseurs around the world. Described as Confident, Confused and Complex, Ta's style is uniquely her own. Her work captivates the viewer with details reminiscent of Monet, the post-impression and surrealist flavours of Picasso and Dali, and the bold and colourful spontaneity of Van Gogh. Mesmerising and visionary, her work is undoubtedly Expressionistic, imbued with soul and original essence. 
Her work currently features in collections across 44 countries. Her dedicated supporters hail from such art meccas as; Amsterdam, Bangkok, Berlin, Chicago, Copenhagen, Dubai, Frankfurt, Geneva, Hamburg, Hong Kong, London, Madrid,Munich, Monte Carlo, Malibu Beach, Monaco, New York, Nice, Paris, Rome, Sydney, Shanghai & Zurich and is considered by many in the art world as "the one to watch." 
Influences
Picaso, Vincent Van Gogh
Education
2011-2016

Artist Koh Samui, Thailand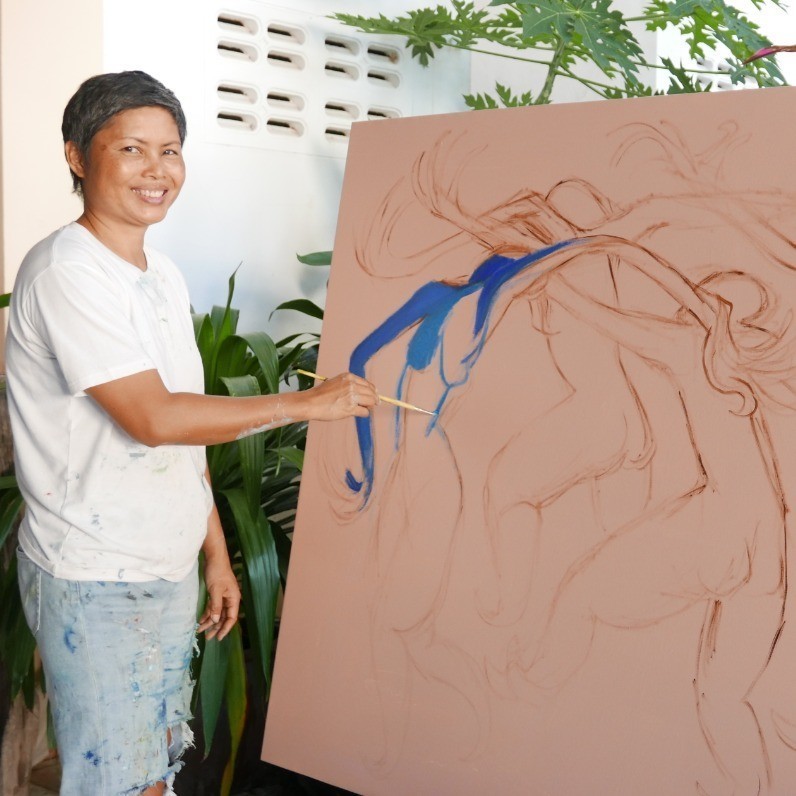 The artist at work
Solo Expositions
---
2019 Peter Dougle Art Gallery Koh Samui, Thailand